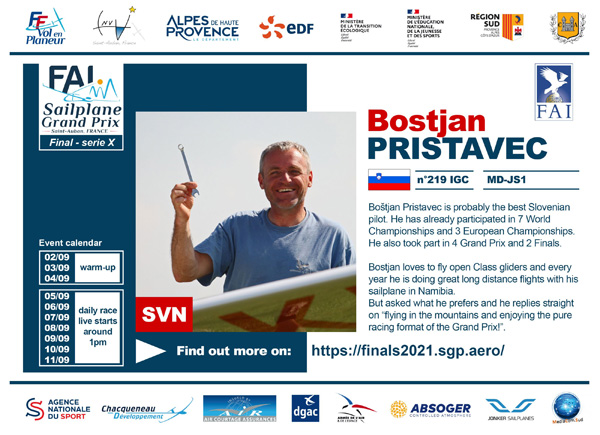 Boštjan Pristavec is probably the best Slovenian pilot. He has already participated in 7 World Championships and 3 European Championships. He also took part in 4 Grand Prix and 2 Finals.
He loves to fly open Class gliders and every year he is doing great long distance flights with his EB in Namibia. But asked what he prefers and he replies straight on "flying in the mountains and enjoying the pure racing format of the Grand Prix!".
He might not be the most eccentric pilot in front of a camera (see his fast and curious there) but in the air, he knows how to get noticed. He already won the Provence Glide and finished 6th at the European championship in Vinon (50 km south of St Auban) so he knows St-Auban playground well. He will be another very strong challenger for the favourite of the Final.
We are looking forward to seeing him with his family on the grid and following him during the live race coverage.