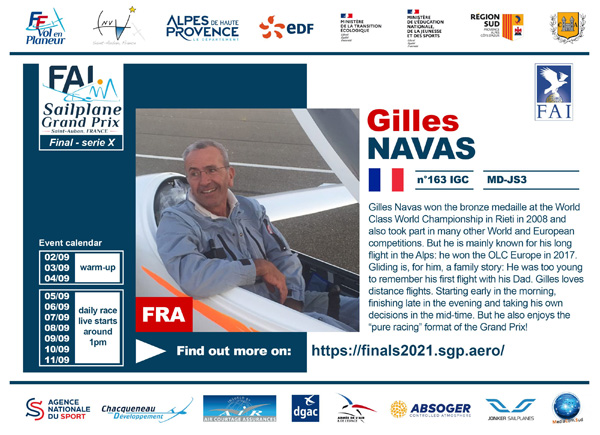 Gilles Navas is one of the best French pilots. He won the bronze medaille at the World Class World Championship in Rieti in 2008 and also took part in other World and European competitions. But he is mainly known for his long flight in the Alps and he won the OLC Europe in 2017.
Gliding is, for him, a family story: He was too young to remember his first flight with his dad. Gilles likes distance flights. Starting early in the morning, finishing late in the evening and taking his own decisions in the mid-time. Since 2018, Gilles has been regularly competing in GP. Enjoying the "pure racing" format.
This September, it will be his second SGP Final. He had good results in La Cerdanya, winning a day and finishing 9th overall. In St-Auban, he will be flying at home. Indeed, He is flying in Vinon 50 km south of St-Auban so he knows the area as the back of his hand. He has the local knowledge and the skills to make a great final and challenge the favorite of the competition.