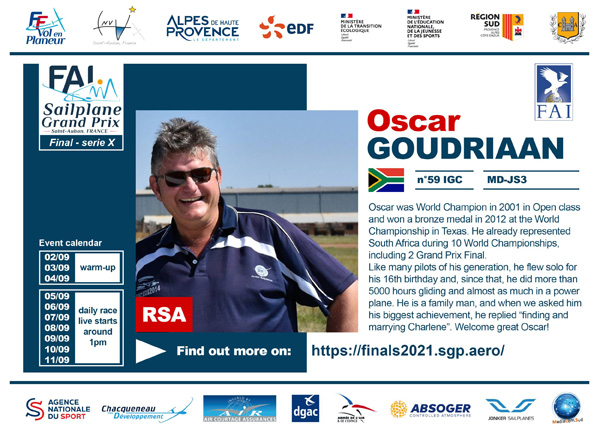 Oscar is 20th at the IGC ranking. He was World Champion in 2001 in Open class and won a bronze medal in 2012 at the World Championship in Texas. He already represented South Africa during 10 World Championships, including 2 Grand Prix Final.
Like many pilots of his generation, he flew solo for his 16th birthday and, since that, he did more than 5000 hours gliding and almost as much in a power plane. He is a family man, and when we asked him his biggest achievement, he replied "finding and marrying Charlene".
He is also involved in his club, helping other pilots to improve their performance and become more competitive. And he can, for sure, teach others a few things: He is a talented and trained pilot and he is a perfectionist, focused on winning. During the qualification, in South Africa, he beated Louis Bouderlique, one of the favourites for the Finale in St-Auban. Will he be able to do it again in the South of France, where he has less experience? He has for sure the will to win.
We are looking forward to hearing his big laugh on the airfield and following him along the mountain's ridges.