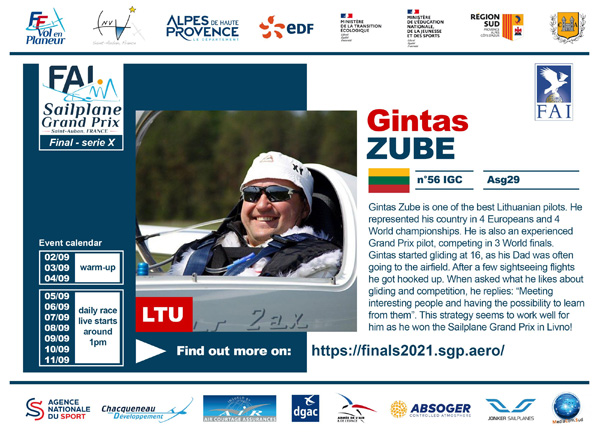 Gintas Zube is one of the best Lithuanian pilots. He represented his country in 4 Europeans and 4 World championships. He is also an experienced Grand Prix pilot, competing in 3 World finals.
Gintas started gliding at 16, as his dad was often going to the airfield. After a few sightseeing flights he got hooked up. When asked what he likes about gliding and competition, he replies: "Meeting interesting people and having the possibility to learn from them". This strategy seems to work well for him as, just last year, he won the Sailplane Grand Prix in Livno (winning his selection ticket to the Final), Serbian national and the Celje Cup in Slovenia. Strong competitor!
He is a very trained mountain pilot and he knows St-Auban playground. He will be a very interesting challenger for the next Final and we will follow him with care. One more thing: Gintas' glider is very easy to spot on the grid with the portrait of his grandfather on the tail. Look out for him in September!
You want to know more about Gintas, you can watch his Fast and Curious interview here.