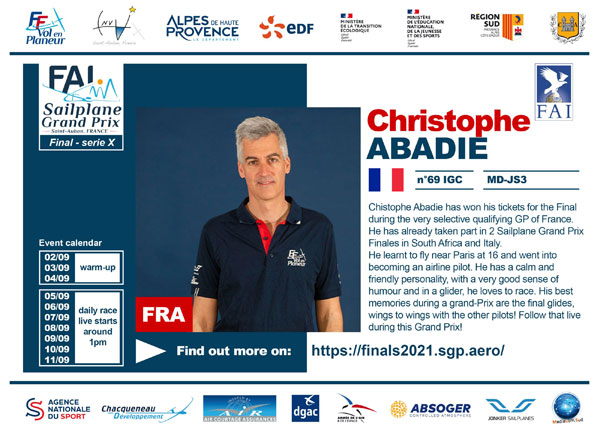 Chistophe Abadie has won his tickets for the Final during the very selective qualifying GP of France. He is a very good French pilot who has already taken part in 2 Sailplane Grand Prix Finales in Potchefstroom and Varese.
He learnt to fly near Paris at 16 and went into becoming an airline pilot. He has a calm and friendly personality, with a very good sense of humour. and in a glider, he loves to race. His best memories during a grand-Prix are the final glides, wings to wings with the other pilots, fighting for the seconds that can make the difference. For him, in Grand Pix, all the race is meant to prepare the final glide.
Even if he flies mainly in flatland, he is training every year in St-Auban with the other French team pilots. He will for sure be a very interesting challenger for the World title in a few days and we are looking forward to following his last glides.