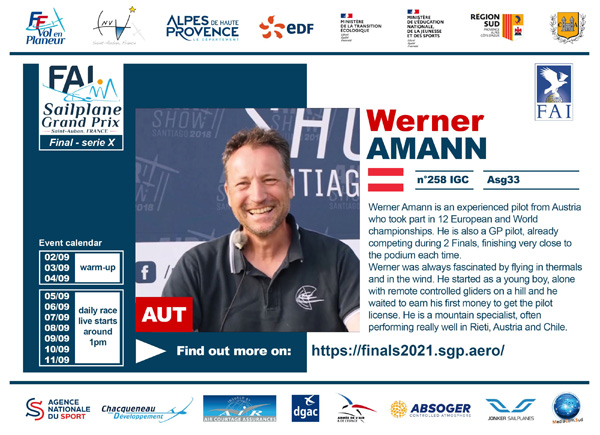 Werner Amann is an experienced pilot from Austria who took part in 12 European and World championships. He is also a GP pilot, already competing in 2 Finals finishing very close to the podium each time.
Werner was always fascinated by flying in thermals and in the wind. He started as a young boy, alone with remote controlled gliders on a hill, and he waited to earn his first money to get the glider pilot license. He is a mountain specialist, often performing really well in competition in Rieti, Austria and Chile. He is more an instinctive pilot who links his performance with his style of flying: "Fly in the flow and not too much in the brain". When asked what he likes in competitions, replied: "I like to compare myself with other pilots. It is also very nice to feel the adrenaline in special situations. Last but not least I like the discussion about our sport with my friends". We are for sure looking forward to talking with him during the grid walk interviews!
As Werner is an experienced GP pilot who performs well in mountain areas, he is definitively a pilot to follow closely in St-Auban.
You can find his fast and curious here.