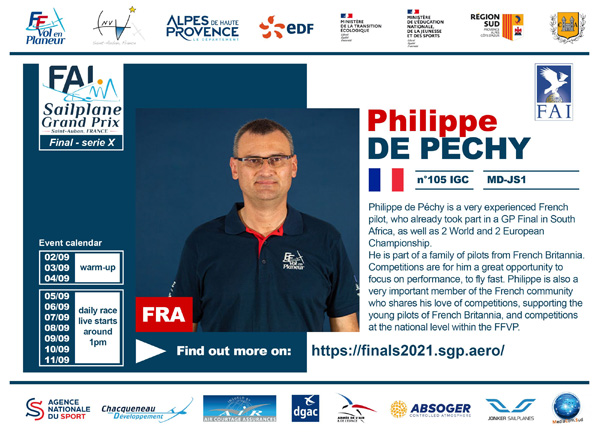 Philippe de Péchy is a very experienced French pilot, who already took part in a GP Final in South Africa, as well as 2 World and 2 European Championships.
He is part of a family of pilots from Britannia. He flew with his dad at age 1 and never stopped flying since! Competitions are for him a great opportunity to focus on performance, to fly fast. It is also the perfect time to meet up with friends. Indeed, his great humour and his technical knowledge make him the perfect mate to be with during a competition. He is also a very important member of the French community who shares his love of competitions, supporting the young pilots of Britannia, and competitions at the national level within the FFVP.
Phillipe knows St-Auban really well, he has a lot of experience in GPs and he is a competitor. He will, for sure, give his best to compete with the best world pilots. We are looking forward to seeing him in a few days, riding the Alps ridge in his JS1!