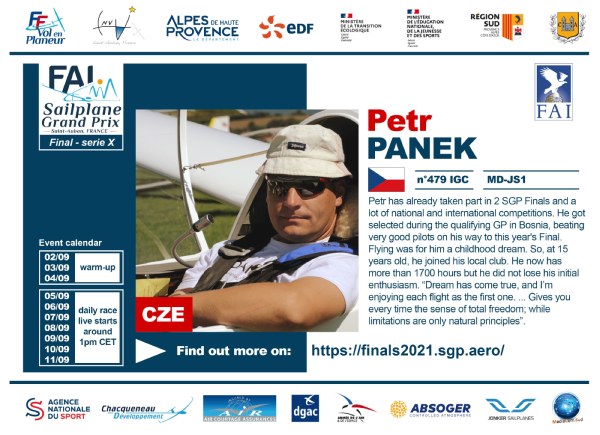 Petr Panek is a Czech pilot who has already taken part in 2 SGP Finals and a lot of national and international competitions. He got selected at the qualifying GP in Bosnia, beating a few very good pilots on his way to this year's Final.
Flying was for him a childhood dream. So, at 15 years old, he joined his local club. He now has more than 1700 hours but he did not lose his initial enthusiasm. "Dream has come true, and I'm enjoying each flight as the first one. ... Gives you every time the sense of total freedom; while limitations are only natural principles". In competition he is looking to improve his skills by comparing himself with other pilots as well as by flying in weather conditions that are not perfect/ really difficult.
In St-Auban, he is maybe not the favourite but he knows the area after competing in the SGP in Sisteron in 2014 and he is also an accomplished sportsman, who will do his best to win. He may be one of the surprises of this competition….